Hot Links
API Awarded Grant for Remote Toxic Gas Monitoring System
The NC Partnership for Defense Innovation held a competition to develop novel technology which can be used in both civilian and military applications. Appealing Products, Inc., (API), won first place in the competition out of the 24 companies that competed for the funds.
Surface Icing Simulation System
API has developed a test system for studying the accumulation of ice on surfaces. The system allows for rapid, flexible testing of various surfaces and coatings in a wide range of icing conditions.
Areas of Research
Appealing Products, Inc. (API) has been involved in many fields of research, including:
Detection of Toxic Materials in Water
Dosimetry of Personal Exposure to Toxins
Industrial Hygiene
Remediation of Toxic Spills
Detection of Food Poisons
Forensics
Passive End of Service Indicators
Gas Mask Filters
Indication and Dosimetry of Humidity
Shelve Life Estimation/Accelerated Aging Tests
Detection of Explosives
Detection of Liquid Explosive Precursors
API is always willing to pursue new research projects and development of new products. To discuss possible cooperation, please contact us.
---
Detectors for Liquid Precursors of Explosives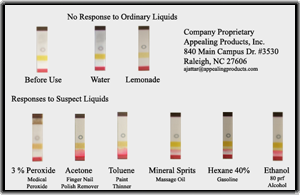 API has developed several products to assist in the quick and accurate detection of explosives and liquid explosive precursors. Verifier Tabs detect the presence of hydrocarbons, acetone, and peroxides in liquids in seconds. Gel-Ox indicators quickly detect the presence of peroxides in viscous materials such as gels. Our On-The-Spot nitrate detectors quickly indicate if nitrates such as traces of gun shot residue and explosives are present on a suspect surfaces, indicating their presence with color change.
Keep up with our Detectors & Detection Kits for Explosives: ChemSee.com.
---
Monitoring Systems for Toxic Gases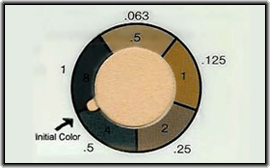 API personnel have many years of experience in the development of toxic material detectors for gases and liquids. A full line of dosimeters and indicators for toxic gases, including nerve gas, mustard gas, and many common industrial chemicals such as formaldehyde, carbon monoxide, chlorine, and hydrogen sulfide has been developed.
Keep up with our Toxic Gas Monitoring Solutions: ChemSee.com.
---
Development of Ice-Phobic Films for Aircraft
API is currently developing ice-phobic coatings to prevent the condensation of ice upon surfaces. These nano-coatings will prevent costly build-up of ice on a variety of instruments and vehicles, helping reduce the cost of maintenance and repairs. API has a method for quick evaluation of the stability of the films on solid surfaces in icy conditions which allows rapid representative evaluation of coatings.
---
Development of New Forensic Methods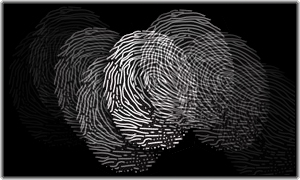 API is currently developing new forensic methods to improve the accuracy, efficiency, and reliability of current methods. These include new products to detect the presence of gun shot residue (GSR) on suspect surfaces, such as the On-The-Spot nitrate detector now marketed on ChemSee's website. Other avenues of research include enhanced methods of fingerprint lifting, which would allow for more accurate collection of fingerprints from crime scenes.
---
Product Development
API will gladly assist any companies seeking assistance in the development of their product. Any interested party should fill out our consulting form, specifying their needs and desires for cooperation. Any party interested in becoming a distributor of API's products should fill out our distributor application form.
---
Industrial Hygeine (Exposure To and Dosimetry Of Toxic Materials)
API has developed and is currently developing products which improve industrial hygeine and work in remedial situations after problems have occured. A full line of dosimeters for toxic industrial chemicals is available. Information is available on specific industrial needs by request at ChemSee.com. Decontamination of chemicals can be achieved using ChemSee decontamination products.